About
Join the University of Saskatchewan (USask) for an important event bringing together expert research, applied knowledge, and lived experiences to create the path forward for stronger, more resilient societies in the wake of COVID-19, and on the way to meeting the UN's Sustainable Development Goals (SDGs) in 2030.
Is it possible to tackle COVID-19 and leverage this moment of crisis to re-emerge stronger and united in our efforts to address the UN 2030 Agenda? 
That's the focus of the 4th annual People Around the World (PAW) Conference. This year's online event promises an exchange of innovative ideas, strategies, and collaborative efforts focused on re-examining the solutions required to address the Decade of Action and implementation of the 17 Sustainable Development Goals (SDGs).  
The insights gained, perspectives shared, and collaborations inspired through PAW 2021 have the potential to leverage elements of the COVID-19 crisis and steer the world back on track. 
In order to answer the "universal call to action to end poverty, protect the planet, and improve the lives and prospects of everyone, everywhere" through the SDGs, collaboration and perspectives from all walks of life are required now more than ever. 
From policymakers, physicians, and engineers, to entrepreneurs, scientists, and the general public—each of us can find a personal or professional connection to one or more of the Sustainable Development Goals.
---
To learn more about the importance of implementing the SDGs during the pandemic, watch Nations United: Urgent Solutions for Urgent Times, a film that sets out the action needed to build a better world, as COVID-19 threatens a decade of global progress:
Program
Apart from keynote speakers, moderated sessions will include the following themes:
Food, Land, Water (Security and Sovereignty)
Health and Wellbeing
Education, Gender and Inequality
Pathways to Climate Action and Renewable Energy
Sustainable, Equitable and Diverse Communities
Other highlights include:
A trainee research competition - see details below.
A culinary demonstration with Saskatoon celebrity Chef Dale MacKay
A special presentation on our USask Collaborative Online International Learning (COIL) program
Energizing yoga and dance breaks to encourage activity and movement during this virtual event
A virtual concert with Saskatchewan musician Jay Maillet to close the conference!
To explore the PAW 2021 program, schedule, and presenter abstracts, please download the PDF below.
Keynote Speakers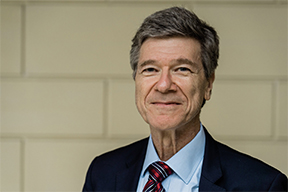 Jeffrey D. Sachs is a world-renowned economics professor, bestselling author, innovative educator, and global leader in sustainable development. He is widely recognized for bold and effective strategies to address complex challenges including debt crises, hyperinflations, the transition from central planning to market economies, the control of AIDS, malaria, and other diseases, the escape from extreme poverty, and the battle against human-induced climate change.
Sachs serves as the Director of the Center for Sustainable Development at Columbia University, where he holds the rank of University Professor, the university's highest academic rank. Sachs held the position of Director of the Earth Institute at Columbia University from 2002 to 2016. He is President of the UN Sustainable Development Solutions Network, a commissioner of the UN Broadband Commission for Development, and an SDG Advocate for UN Secretary General Antonio Guterres. From 2001-18, Sachs served as Special Advisor to UN Secretaries-General Kofi Annan (2001-7), Ban Ki-moon (2008-16), and António Guterres (2017-18).
Sachs has authored and edited numerous books, including three New York Times bestsellers: The End of Poverty (2005), Common Wealth: Economics for a Crowded Planet (2008), and The Price of Civilization (2011). Other books include To Move the World: JFK's Quest for Peace (2013), The Age of Sustainable Development (2015), Building the New American Economy: Smart, Fair & Sustainable (2017), A New Foreign Policy: Beyond American Exceptionalism (2018), and most recently, The Ages of Globalization: Geography, Technology, and Institutions (2020).
Sachs was the co-recipient of the 2015 Blue Planet Prize, the leading global prize for environmental leadership. He was twice named among Time magazine's 100 most influential world leaders and has received 35 honorary degrees. The New York Times called Sachs "probably the most important economist in the world," and Time magazine called Sachs "the world's best-known economist." A survey by The Economist ranked Sachs as among the three most influential living economists.
Prior to joining Columbia, Sachs spent over twenty years as a professor at Harvard University, most recently as the Galen L. Stone Professor of International Trade. A native of Detroit, Michigan, Sachs received his B.A., M.A., and Ph.D. degrees at Harvard.
Jeffrey Sachs will take part in a moderated Q&A session following his keynote address.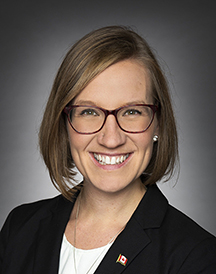 The Honourable Karina Gould, Minister of International Development, was first elected as the Member of Parliament for Burlington in 2015.
A graduate of McGill University and the University of Oxford, Minister Gould is passionate about public service and international development. Before her election as the Member of Parliament for Burlington, she worked as a trade and investment specialist for the Mexican Trade Commission in Toronto, a consultant for the Migration and Development Program at the Organization of American States in Washington, D.C., and spent a year volunteering at an orphanage in Mexico.
Minister Gould has deep roots in her hometown of Burlington, Ontario, and is an active member of the community and an advocate for women's issues and affordable housing. She has volunteered with and actively supports the Iroquoia Bruce Trail Club, the Burlington chapter of the Canadian Federation of University Women, the Mississauga Furniture Bank, Halton Women's Place, and other local organizations.
Minister Gould lives in Burlington with her husband Alberto and son Oliver.
With the birth of Oliver, Minister Gould became the first federal cabinet minister to have a baby while holding office. She is passionate about breaking down barriers for women, youth, and underrepresented groups.
Minister Gould
will take part in a moderated Q&A session following her keynote address.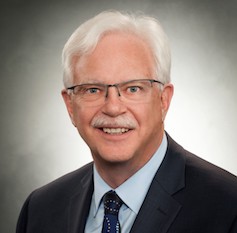 David Arnot attended the University of Saskatchewan and received his LL.B. Degree in 1975. In 1978, he became a Senior Crown Prosecutor. He was appointed a Judge of the Provincial Court of Saskatchewan in 1981. In September of 1994, Judge Arnot was seconded to the Federal Department of Justice as Director General of the Aboriginal Justice. In May 1996, Judge Arnot was promoted to the position of Special Advisor to the Deputy Minister of Justice for Canada.
On January 1, 1997, he was seconded by the Federal Government to be the Treaty Commissioner for the Province of Saskatchewan for a 10 year period. Judge Arnot's work on the "Teaching Treaties in the Classroom Project" was specifically cited as a model for Canada by the United Nations Special Rapporteur on Racism in his report presented in March 2004. In October 2005, the Office of the Treaty Commission was selected by the Canadian Race Relations Foundation to receive its biennial Award of Excellence for education programs in the public and government sector. Judge Arnot introduced the phrase "We are all Treaty people" to capture the nature of the Treaty relationship in Canada.
Judge Arnot has produced and directed a number of video education projects. He has been involved in education for the Judiciary through the National Judicial Institute, the Western Judicial Education Centre, the Canadian Association of Provincial Court Judges, and the American Judges Association.
Judge Arnot was honoured by the Canadian Bar Association Saskatchewan Branch as a recipient of the "Distinguished Service Award" for 2007.
Judge Arnot has been seconded from the Provincial Court of Saskatchewan to be Chief Commissioner for the Saskatchewan Human Rights Commission since January 15, 2009.
David Arnot will take part in a moderated Q&A session following his keynote address.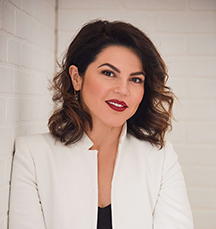 Livia E. Castellanos
Government of Saskatchewan
Executive Lead, International Education and Jurisdictional Initiatives
Ministry of Advanced Education
With over twenty years of experience in the field of International Education, Livia E. Castellanos is currently on secondment from the University of Regina, where she serves as the Associate Vice-President (International), to the Ministry of Advanced Education, Government of Saskatchewan. In her role as the Executive Lead for International Education and Jurisdictional Initiatives within the Ministry of Advanced Education, Ms. Castellanos will lead with a focus on elevating Saskatchewan's profile on a global front by championing the important work required to reinforce Saskatchewan Growth Plan priorities. Within this new portfolio her primary responsibilities will be: a) policy related to international education both in the provincial advanced education sector and from a national and global perspective; b) advancing Saskatchewan student study abroad efforts including re-attracting students back to Saskatchewan with global competencies to support population labour force targets, c) articulation of provincial positioning on federal-provincial relations with respect to international education, international partnerships, the Council of Ministers of Education Canada (CMEC); and d) lead policy development and implementation processes on the Ministry's Francophone affairs file.
During the last decade, Ms. Castellanos has been responsible for leading, managing and spearheading all international initiatives at the University of Regina. She is the creator of UR International, a centralized operation of six departments that manage all things international at the University of Regina. Ms. Castellanos led the successful formation of the Saskatchewan Education Alliance, an alliance that works towards the internationalization of higher education in the Province of Saskatchewan, and was the catalyst for the prestigious Confucius Institute at the University of Regina. Prior to coming to the University of Regina, Ms. Castellanos served as the Director of Enrolment and Institutional Relations at the University of Winnipeg and an International Relations Officer at University of Alberta International.
Ms. Castellanos has served as the Executive Secretariat for Canada in the Inter-American Organization of Higher Education (IOHE), a board member and Chair of the Membership Relations Committee for the Canadian Bureau of International Education (CBIE), and a member of various provincial international education boards. She has consulted for several universities and higher education organizations across North America and written articles published by the European International Association of Education.
Ms. Castellanos has been recognized for her contribution to the field of International Education. She has been honoured by receiving the United States Government State Department's premier award of the 2016 International Visitor Leadership Program for foreign emerging leaders, the 2017 Intercultural Dialogue Institute's Saskatchewan Multicultural Education Award, the 2017 Consortium for North American Higher Education Collaboration's (CONAHEC) Award of Distinction for exemplary leadership and many others.
Livia E. Castellanos, born and raised in Mexico, came to Canada during the late nineties as an international student. She is a lawyer by training, is married, and is a mom to a thirteen year old son.
 Ms. Castellanos will take part in a moderated Q&A session following her keynote address.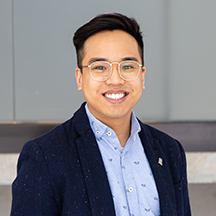 Phil De Luna is currently leading a world-class 7-year $57M collaborative research program on Canada-made clean energy technology as a Program Director at the National Research Council of Canada. His mandate is to develop transformative technologies to help Canada achieve net-zero GHG emissions by 2050. His moonshot is to make renewable fuels and chemicals from air and water.
De Luna is a pioneering carbontech expert with experience spanning cutting-edge topics such as carbon capture and conversion technologies, clean hydrogen, and artificial intelligence for materials discovery. His research has been published in high-impact journals such as Nature and Science (>5000 citations in 5 years) and has been covered by mainstream media such as Newsweek, CBC, Forbes, Popular Science, etc.
Phil was named to the 2019 Forbes Top 30 Under 30 – Energy list and was a finalist (1 of 10 worldwide) in the $20M Carbon XPRIZE. He holds a PhD from the University of Toronto in Materials Science & Engineering where he was a Governor General Gold Medalist. He is Vice Chair of the board of directors of CMC Research Institutes, a carbontech non-profit, a member of the OECD Advanced Materials steering committee, and a member of the Working Group on AI Ethics and Sustainable Development Goals at the Canadian Commission for UNESCO. He is also a Mission Innovation Champion for Canada, an Action Canada Fellow, and a Creative Destruction Lab Mentor.
Phil De Luna will take part in a moderated Q&A session following his keynote address.
Trainee Research Competition
PAW 2021 Trainee Research Competition
The 4th annual People Around the World Conference (PAW 2021) invited University of Saskatchewan undergraduate or graduate students, residents, postdoctoral fellows, or other type of trainees conducting research linked to the Sustainable Development Goals (SDGs), to share their research with our online audience of professionals, academics, researchers, and global citizens seeking to re-examine how to realize the SDGs of the 2030 Agenda in the wake of COVID-19.
Entries
Seventeen (17) University of Saskatchewan research trainees registered for the competition. Presentations will be held online at the PAW 2021 conference on Feb. 3, 2021, from 1pm to 2:30pm CST and will be evaluated by a panel of judges for cash prizes.
Special Presentations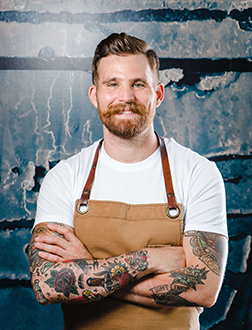 Canada's first Top Chef winner, and multi-award winning culinary artist, Chef Dale MacKay had been a protégé to world renowned Chef Gordon Ramsay at his restaurants in Tokyo, London and New York and was Executive Chef at Lumière in Vancouver, BC. Managed by world renowned Chef Daniel Boulud. 
Dale MacKay had been the culinary tour de force in the well-praised Lumière kitchen when he arrived from New York City in the fall of 2007. Under Dale's direction, Lumière built on its un-broken tradition of Relais & Chateau class cuisine and service standards and was awarded the Grand Chef title at age 27 which made him the youngest in the world at the time. Other awards to he credit were AAA's Five Diamond, Mobil's Four Stars and Traditions et Qualite's highest honors.  
Dale MacKay was born in Saskatchewan, Canada, and, like most great chefs, knew at an early age that he was destined for the kitchen. Before working under Chef Gordon Ramsay & Chef Daniel Boulud, Dale spent time as a private chef in Rome, in BC's Queen Charlotte Islands at the elite West Coast Fishing Club. 
After winning Top Chef Canada Dale had formed a team to move back to his hometown of Saskatoon, Saskatchewan in 2013 to open up Ayden Kitchen and Bar, named after his son Ayden. Ayden Kitchen and Bar has accumulated some prestigious awards including enRoute's top 10 best new restaurants in Canada, People's choice winner in best new restaurant, top 10 best restaurants in Canada through Vacay.ca and listed in the top 100 best restaurants in Canada though Maclean's Magazine. 
In 2015 Dale MacKay opened his second restaurant called Little Grouse on the Prairie. A modern Italian restaurant focusing on Alla Familia, barrel aged cocktails and an intimate dining experience. Little Grouse on the Prairie has also been listed in the enRoute top 30 best new restaurants in Canada and in the top 100 best restaurants in Canada thorough Maclean's Magazine. 
In 2016 Dale MacKay opened his third restaurant called Sticks and Stones. A non-traditional Korean & Japanese restaurant focusing on ramen, sushi, and izakaya style cuisine. Sticks and Stones was also listed in the top 100 best restaurants in Canada through Maclean's Magazine. 
Most recently, Dale Mackay opened his fourth restaurant in 2018 in Regina Saskatchewan. Avenue Restaurant focuses on global cuisine using world flavors with a heavy French influence on the menu. Avenue has been named top 10 best new restaurant through enRoute Magazine and continues to achieve multiple success and awards for it's opening.
Chef MacKay will delight PAW participants with a virtual presentation of a simple but delicious meal using ingredients that can be locally sourced. Download the recipe for conference participants to follow along or to prepare at a later date.
We are proud and honoured to have Elder Roland Duquette bring a thoughtful Indigenous perspective to our PAW 2021 conference. Elder Duquette will offer a prayer and blessings to open our special event. On Day 2 he will introduce our Trainee Research Competition by giving our students counsel on the importance of their diligence in helping to build a strong and sustainable world.
Biography
Elder Roland Duquette is an Elder from Mistawasis First Nation in Treaty 6 territory in Saskatchewan. Elder Duquette works for the Parole Board of Canada facilitating Elder Assisted Hearings for aboriginal men and women in the Saskatchewan federal prison system.  He also works in an Elder capacity for other organizations in Saskatoon including the University of Saskatchewan, Wanuskewin Heritage Park and the Meewasin Valley Authority. 
In his personal time, Elder Duquette enjoys spending time with his wife, his son, his many cats and his dog TooToo, bringing much love, joy and happiness to his life. Elder Duquette also enjoys meeting and talking to people and catching up by telephone with family and friends.
Please join us in celebrating our visiting professors from around the world. Five of our visiting professors have provided video presentations on their research relating to the SDGs, especially during the pandemic, and on their experience here at the University of Saskatchewan. They will be shown during the conference on Tuesday, February 2nd at 4:45 PM.
University of Saskatchewan Visiting Professors:
Prof. Qais Al-Efan from the Jordan University of Science and Technology - working in the College of Pharmacy and Nutrition with Prof. David Blackburn
Prof. Jim Freer from the University of Bristol - working in the Global Institute for Water Security (Canmore site) with Profs. John Pomeroy and Martyn Clark
Prof. Wenbin Hu from the South China University of Technology - working in the Department of Mechanical Engineering with Prof. Huiqing Guo
Prof. Yangang Wang from the China Geological Survey - working in the Department of Geological Sciences with Prof. Bruce Eglington
Prof. Xuequi Zhang from the University of Victoria - working in the Department of Mathematics and Statistics with Prof. C.Y. Chung
This presentation video will be available on our YouTube channel after the conference and a link will be posted here.
Aditi Garg and David J Parkinson
Session Title: Collaborative Learning, Internationally
Abstract: How might we bring valuable international experience and connection into the classroom? Aditi Garg will share how Collaborative Online International Learning (COIL), an intercultural virtual exchange process, helps students develop sought-after transversal skills and master course objectives. COIL offers USask students the opportunity to Be What the World Needs, while still at home. David Parkinson will share insights from many years of instructor collaboration and student engagement around the world within class and beyond. In his words, collaboration doesn't have to be novel strategies or require enormous resources. What matters most is to broaden the way of thinking and slightly reorganize who contributes to instructing and guiding students. 

COIL testimonials: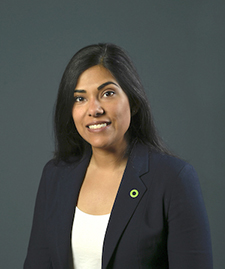 Aditi Garg, Educational Development Specialist, Gwenna Moss Centre for Teaching and Learning, University of Saskatchewan
Bio: Ms. Aditi Garg is an educational development specialist in assessment, inclusive and responsive learning, and education for sustainable development. Her background is in secondary education in French, mathematics, and outdoor education. In the past, she has consulted the Saskatchewan Ministry of Education on curriculum development, resource evaluation, and exam validation. At the Gwenna Moss Centre, she also helps instructors with curricular alignment and the internationalization of teaching and learning.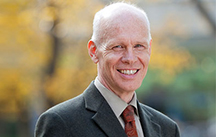 Dr. David J. Parkinson (PhD), Professor of English, College of Arts and Science, University of Saskatchewan
Bio: David J. Parkinson is a Professor of English at the University of Saskatchewan who will retire at the end of this academic year. Returning to regular faculty duties after completion of an administrative term, he was encouraged to participate in teaching initiatives connecting first-year courses at USask with their counterparts elsewhere (China, India, the UK, Spain, Ethiopia, Nigeria, the US). These initiatives tended to focus on student research. Contributing to USask's FYRE initiative led to course pairings (Ahmedabad University, IIIT Delhi) and then the development of a student research conference that is approaching its fourth iteration. Guided by Aditi Garg, Parkinson is now participating in COIL, in a project connecting undergraduate courses at USask and CEU San Pablo in Madrid.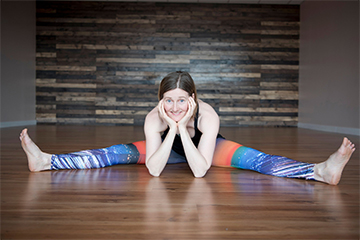 Amanda Plant will offer an energizing break of easy yoga. No experience necessary!
Amanda Plante has a BSc (Biology) from the University of Windsor, as well as a Business Administration Certificate (BAC) and MSc (Toxicology) from the University of Saskatchewan (USask). Amanda has been employed at USask since 1998. She currently works in the Office of Animal Care & Research Support, Research Excellence & Innovation, where she serves as the university's Animal Care Coordinator — a position she has held for the past 15 years. Amanda has also been practicing and teaching yoga for the last decade at the university's Physical Activity Complex (PAC) and other yoga studios in Saskatoon. She has completed over 1000 hours of various yoga teacher trainings including yin, hot yoga, kids yoga, prenatal yoga, Let Your Yoga Dance, Thai massage and yoga nidra.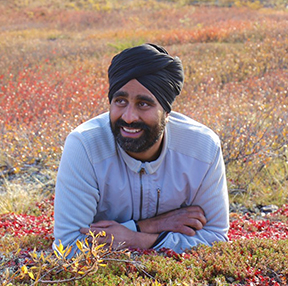 Energize yourself by dancing along to traditional Punjab dance, Bhangra with Gurdeep Pandher!
Gurdeep Pandher was born into a farming family, in a simple village called Siahar in Punjab. At their farm, his family would grow many kinds of crops, vegetables and beans, and raise cows and buffalo that provided milk.  He was fortunate to grow up eating home-grown and organic meals. Living on a farm fostered a passion for nature. Living on the land embedded in him a respect for "Air (as Guru), Waters (as Father), and Earth (as Mother)"!
In 9th grade, Gurdeep learnt from a friend in his village about a "thing" that existed in the world. His friend, with his sweet childish-innocence, called this thing a "Dishnary" (he meant "Dictionary"). It had an English translation of almost all the Punjabi words. Overjoyed with this new discovery, Gurdeep cycled all the way from his village to a nearby town, so he could buy that "thing"! It opened opportunities for him to learn a new language and communicate with the rest of the world. He read, word-by-word, all from the dictionary.
Gurdeep was in grade 6 when he wrote his first poem. By grade 10, he had written numerous creative literature and compositions, including poetry, prose, a full novel, hundreds of stories and a play. By the age of 23, he became a published author of two books. In Punjabi, Gurdeep's first book is titled Mitti De Ghar. His second book, entitled Among the Stars, is based on the life of Kalpana Chawla, the first woman of Indian origin to go to space.
He moved to Canada in 2006 and has lived in many great Canadian cities, including Squamish, Vancouver, Abbotsford, Saskatoon, Edmonton, North Battleford, Turtleford, Lloydminster, Yellowknife, and now, Whitehorse. Through road trips, Gurdeep has had to opportunity to travel through and extensively explore Canada. In 2011, he became a Canadian citizen. Due to his humble upbringing, he developed a strong appreciation for small, tight-knit communities. He was especially captivated by wheat farms in Saskatchewan. He would sit by the roadside and watch the prairie-land farmers harvest the wheat crop for hours and reminisce about his similar experience at his family's farm in Punjab.
As a part of Punjabi-Sikh culture, Gurdeep was born into the world of Bhangra. In his youth, at the age of 17, he began taking professional Bhangra classes in Ludhiana, Punjab. This allowed him to learn to dance from the heart and adopt dance as a part of his lifestyle. Since his days in Punjab, his love for dance has continued to grow and evolve. After moving to the Yukon in 2012, Gurdeep pursued his passion for dance, providing Bhangra lessons at many locations in Canada. Gurdeep began posting Bhangra dance videos filmed in the beautiful landscapes of the Yukon. Over time, his posts went viral and his work has been featured on CBC Yukon, CBC National, CTV National News, Buzzfeed, The Huffington Post, SBS Australia, and many other platforms. Even Canadian embassies abroad shared his works to showcase the wonderful side of multiculturalism that is currently present in Canada.
Gurdeep.ca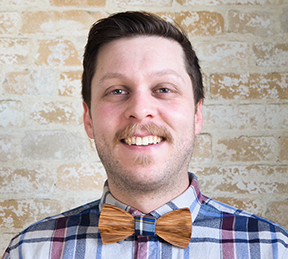 In October 2016, Saskatchewan musician Jay Maillet began hosting a series of carbonless concerts using solar-powered generators to power all audio equipment and lighting. In addition to promoting local musicians and sustainability in the community, Jay views the events as a way of leading by example, engaging his community in sustainability discussions, and demonstrating the potential of solar energy on a small scale.

Jay completed his PhD from the University of Saskatchewan School of Environment and Sustainability (SENS) and is currently teaching in the university's College of Agriculture and Bioresources. His folk/folk-rock style of music is inspired by singer-songwriter performers such as Neil Young and Gregory Alan Izakov.
Jay Maillet will close out our conference with a virtual concert you won't want to miss!
Recorded Conference Presentations
Health and Wellbeing
---
Food, Land, Water (Security and Sovereignty)
---
Education, Gender and Inequality
---
Sustainable, Equitable and Diverse Communities
---
Climate Action and Energy
The Honourable Judge David Arnot
---
The Honourable Karina Gould
---
Professor Jeffrey D. Sachs
---
Livia Castellanos
---
Dr. Phil De Luna, PhD
Day 1 Opening Remarks
---
Day 2 Opening Remarks
---
USask Sustainability Strategy
---
Collaborative Online International Learning (COIL)
---
Chef Dale MacKay Culinary Demonstration
---
Bhangra Dance with Gurdeep Pandher
---
Visiting Professors at the University of Saskatchewan
---
PAW 2021 Awards Ceremony
Registration
Registration for this virtual conference event is now closed.
Call for Presenters
The call for presenters at PAW 2021 is now closed. We would like to thank everyone who submitted an application to present!
PAW 2021 Sponsors
The deadline for sponsorship inquiries was January 15, 2021, at 4 pm CST.
Please contact paw.internationaloffice@usask.ca if you are interested in becoming an official sponsor of PAW 2022.
PAW 2021 Committee
The PAW organizing committee is comprised of University of Saskatchewan volunteers from diverse backgrounds, disciplines, and units to spur dialogue and mobilize multidisciplinary partnerships from different sectors, communities and countries.
EVENT OVERSIGHT
Dr. Meghna Ramaswamy (PhD)
International Office 
EVENT CHAIRS
Megan Fillatre
Roxanne Craig
International Office 
EVENT COORDINATOR
Dr. Naheda Sahtout (PhD)
International Office 
COMMUNICATIONS CHAIR
Collin Semenoff
Health Sciences  
ORGANIZING COMMITTEE
Shirley Zhou
Le Li
Kiela Caudillo Ruiz
Dr. Leila Tang (PhD)
International Office 
Genevieve Clark
College of Pharmacy and Nutrition
Matthew Dunn (P.Eng)
Office of the Vice-Provost Indigenous Engagement 
Alexandra Foster
University Relations 
Dr. Manisha Jalla (PhD)
Research Acceleration and Strategic Initiatives 
Janice Michael
School of Public Health
SDG Resources
The Sustainable Development Goals (SDGs) are a call for action by all countries — poor, rich and middle-income — to promote prosperity while protecting the planet. They recognize that ending poverty must go hand-in-hand with strategies that build economic growth and address a range of social needs including education, health, social protection, and job opportunities, while tackling climate change and environmental protection. 
Click on an SDG to learn more about a particular goal (facts and figures, targets, links, and more).
USask faculty are encouraged to register now for two short programs offered by the Gwenna Moss Centre for Teaching and Learning at the University of Saskatchewan:
SDG Short Course — February 4, 2021
Internationalization Short Course — February 11, 2021
Do you know all 17 SDGs?
The Sustainable Development Goals (SDGs), are a universal call to action to end poverty, protect the planet and ensure that all people enjoy peace and prosperity.
---
SDG Moment 2020:
At a time of great uncertainty, the SDGs show the way forward to a strong recovery from COVID-19 and a better future for all on a safe and healthy planet. The SDG Moment brings together representatives of Governments, civil society, local authorities, international organizations and the private sector, along with other relevant stakeholders, with a view to generating a renewed sense of urgency, ambition, accountability and transformative possibility as the world embarks on a Decade of Action to deliver the Sustainable Development Goals.
---
How COVID-19 Will Affect the Sustainable Development Goals | Global Citizen Explains
A United Nations report has shed light on how COVID-19 will impact the Sustainable Development Goals. These goals are vital to ending poverty, protecting the planet, and improving the lives of everyone by 2030. Around the world, progress towards good health and well-being, quality education, and gender equality are being threatened by the pandemic.
---
The following resources have been made available to help provide insight into the SDGs and/or implementation challenges and opportunities resulting from COVID-19.
Contact
For questions regarding PAW 2021 registration, sponsorship or presentation opportunities, and more, please contact conference organizers.