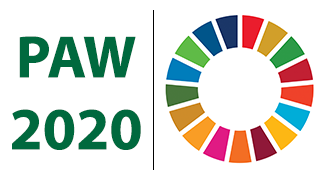 3rd Annual People Around the World (PAW 2020) Conference

Sustainability the World Needs: Development in Action
February 6 & 7, 2020 - University of Saskatchewan
Theme: United Nations 17 Sustainable Development Goals
Hosted by the International Research and Partnerships Office - Registration will open soon.
Relevance and Objectives of PAW 2020:
The PAW conference aim is to advance the University of Saskatchewan's (USask) internationalization efforts in the areas of global research, sustainable partnerships, and collaborative projects with partners around the world.  The PAW conference brings together researchers, students, staff and external stakeholders to engage in dialogue around the benefits and challenges of international research and global community based projects.  The conference highlights and recognizes distinguished USask researchers and students committed to innovative global research projects.  This year's PAW 2020 will focus on the United Nations 17 Sustainable Development Goals (SDGs) and address the university's commitment and active participation to achieve these global goals by 2030.
The Sustainable Development Goals are the blueprint to achieve a better and more sustainable future for all. They address the global challenges we face, including those related to poverty, inequality, climate, environmental degradation, prosperity, and peace and justice. The Goals interconnect and in order to leave no one behind, it is important that we achieve each Goal and target by 2030.
Global Conversations
What Children do on the Internet:
Online Participation and Security Control among Chinese Teenagers
Date: Wednesday November 20, 2019
Time: 11:00 am – 12:00 pm
Location: International Students & Study Abroad Centre
                Room 70.4 Lower Place Riel
Visiting Professor Presenter: Dr. Shaozhen Lin, Department of Sociology

The Visiting Professors Global Conversations Series is presented by the International Research and Partnerships Office